27.10.2022 14:00 – 27.10.2022 19:00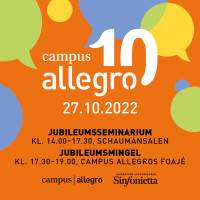 The celebration of Campus Allegro 10 starts with a seminar about Campus Allegro's past, present and future.
During the academic year of 2022-2023 the cultural quarter Campus Allegro celebrates 10 years. The units in and around Campus will honor the first decade with a jubilee year. The celebration will span over the entire academic year of 2022-2023 and will start with a Jubilee Seminar during the fall term of 2022.
Welcome to Campus Allegro 10 jubilee seminar in the Schauman Hall, Thursday 27 October 2022 at 14.00, as well as a Mingle Event in the foyer of Campus Allegro during the same evening at 17.30.
Register by 20 October at 16.00 at the latest. Please note – limited number of places!
Opening speech by Martin Granholm
14.00-15.00 Campus Allegro – 2012: Where did we want to go?
15-15.15 Music feature in Schauman Hall
15.15-16.00 Campus 2012-2022: This is how it turned out!
16.00-16.30 Refreshments and music in the foyer
16.30-17.30 Campus 2032: What are the visions for the future?
17.30-19.00 Mingel Event in the Campus Allegro foyer